FTC Disclosure: This post contains affiliate links which means if you make a purchase through one of these links, I may earn a small commission on your sale which allows me to cover a portion of the cost of running the Delicious Obsessions site and free content we provide every week. This has no effect on your price and is simply a cost of doing business from the company you purchase from. I only recommend products or services that I have personally tried and love. You can view it like leaving a tip. Thank you for your support!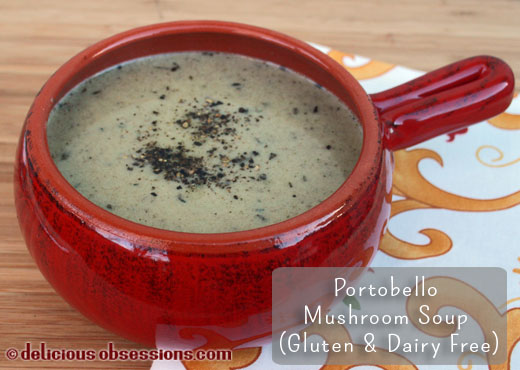 Cream of mushroom soup has always been comforting for me. I don't know why, but it has. I love a big bowl of it with lots of fresh ground pepper and a dollop of sour cream or Crème fraîche. Major yum! In the pre-real food days, I would sometimes eat Campbell's cream of mushroom soup. I know, gross, right? At the time, it tasted good, but just the thought of it seems so unappetizing now. I recently looked at the ingredient label on a can of the soup and realized just how bad it is! I had always wanted to make my own cream of mushroom soup, but never got around to it, until one day, I had a huge container of baby portobello mushrooms that needed using. This recipe was born and with some various tweaks to the seasoning, I finally settled on this final recipe.
This soup is going to be on the thin side. You can definitely thicken it up with some flour, arrowroot, cornstarch, etc. I am currently avoiding all thickeners, so that is why I left them out of the recipe. If you use flour, you can sprinkle a couple tablespoons over the onions and mushrooms after they have browned and stir it around to soak up the oil. Let that cook a little before adding in the liquid ingredients to eliminate that raw flour taste. If you are using cornstarch, arrowroot, or another thickener, follow the instructions for those specific thickeners.
Delicious Obsessions Trusted Product Recommendations
My affiliate partner, Vitacost, has really good prices on some of the ingredients in this recipe. If you sign up through this link, you'll get a coupon for $10 off your first purchase from Vitacost, and when your order ships, I'll get a $10 off coupon for referring you. The cool thing about this program is that you can then refer your family and friends through your own link and YOU can get the $10 coupons too! 🙂
In addition, my affiliate partner, Tropical Traditions, is where I get all of my coconut products from and if you make a purchase from them through any of my links, you will receive a free copy of their Virgin Coconut Oil book, and I will receive a discount coupon for referring you.
Mountain Rose Herbs is where I get all of my herbs and spices. Because of their exceptional products and customer service, I am happy to support them as one of my affiliate partners. I have tried many brands of herbs over the years and keep coming back to Mountain Rose.
P.S. Did you know that soups and stews are an EXCELLENT source of gelatin if you use homemade stock? Sometimes, I even add a tablespoon or so of gelatin into my bowl of soup for added nutrition. If you want to learn more about gelatin and its benefits for our health, I highly recommend this book, The Gelatin Secret: The Surprising Superfood That Transforms Your Health and Beauty, from my affiliate partner, Sylvie McCracken. This book is packed with incredible information on how gelatin helps all aspects of our health and also features delicious recipes!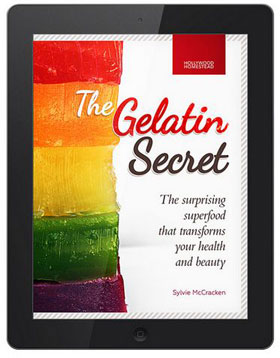 Cream of Portobello Mushroom Soup (Gluten, Grain, and Dairy Free)
I have linked to the products from my affiliate partners that I personally use and recommend.
Ingredients
Instructions
1. Slice your shallots, onions, and mushrooms. Since this will be blended, rough chopping is OK. Set the sliced mushrooms aside.
2. Saute the shallots and onions together with the garlic in the coconut oil, butter, or ghee until soft.
3. Add the mushrooms and saute until the mushrooms begin to get soft.
4. Sprinkle in the thyme, salt, and pepper and stir.
5. Add the stock, Tamari, and parsley. Bring to a simmer.
6. Reduce heat and let simmer over low for 30-45 minutes. Taste for salt and pepper and add more if needed.
7. Add the coconut milk and let cook for 5 minutes. Remove from heat.
8. Using your immersion blender (or regular blender), puree the soup until smooth.
Paid Endorsement Disclosure: Delicious Obsessions is a participant in the Amazon Services LLC Associates Program, an affiliate advertising program designed to provide a means for sites to earn advertising fees by advertising and linking to AMAZON.COM. This post may contain affiliate links and/or ads. We only recommend products or services that we have personally tried and love. When you make a purchase through any of these links, we earn a small commission on each sale, which allows us to cover a portion of the cost of this site. This has no effect on your sale price and is simply a cost of doing business for the company you are purchasing from. All funds received help with the continued maintenance of this website and free content. You can view it like leaving a tip. Thank you! Read our full terms and conditions here.

Jessica is a real food wellness educator and the founder of the Delicious Obsessions website. She has had a life-long passion for food and being in the kitchen is where she is the happiest. She began helping her mother cook and bake around the age of three and she's been in the kitchen ever since, including working in a restaurant in her hometown for almost a decade, where she worked every position before finally becoming the lead chef. Jessica started Delicious Obsessions in 2010 as a way to help share her love for food and cooking. Since then, it has grown into a trusted online resource with a vibrant community of people learning to live healthy, happy lives through real food and natural living.