FTC Disclosure: Delicious Obsessions may receive comissions from purchases made through links in this article. As an Amazon Associate I earn from qualifying purchases.Read our full terms and conditions here.

Life is busy. At least, I know it is for me. Things during the week can sometimes get so hectic that the last thing on my mind is what to fix for dinner. Then, 5:00pm rolls around and I realize that I have no idea what we are going to eat. For years, I avoided planning and prepping and would always tell myself, "you'll figure it out", whenever I thought about dinner ideas. It's not like meal planning is hard. It's just something I always avoided. The few times that I would sit down on a Sunday morning to schedule out the week's meals, I realized I hated meal planning. I honestly don't know why especially considering that I am such a Type-A personality that every other aspect of my life undergoes regular planning.
Well, fast forward a few years, to a crazed Jessica who essentially works two jobs and has very little time to cook anymore. This last summer, when I transitioned to a paleo/primal style of eating, I realized that planning was key. Many of the "quick" dinners that I used to make weren't an option now with no grains, legumes, or dairy. While I still detest meal planning for whatever reason, batch cooking has literally saved me more times than I can count.
About a month ago, I posted on Facebook about how much cooking and prep I was doing on a Sunday to fill my freezer up with lots of pre-made meal ideas. I got an overwhelming response of people asking for me to elaborate. So, this post is for you!
If you are interested in meal planning but don't know where to start, I recommend checking out Real Plans. They offer custom meal planning for all diets, schedules, and tastes. Their meal planning app saves about $50 a week in groceries for the average user. That's $200 each month, plus less stress since you'll have a plan. You'll also have less food waste, which will save you money too!
Getting Started with Batch Cooking
For me, batch cooking is the easiest way to ensure that I always have something on hand for dinner. Yes, our dinners are often boring, and we rotate through many of the same types of meals over and over, but you know what? It's the best I can do right now. Here are the things that help me:
1. Have an extra freezer. In my case, we have two extra freezers — one chest freezer and one upright freezer. We got both for super cheap (I think one of them was free actually). You can typically pick up a chest freezer on Craigslist for a very reasonable price. If you don't have an extra freezer, your batch cooking ability will be limited.
2. Harvest and freeze your own, or stock up on frozen vegetables for the winter. I find I have a hard time eating enough vegetables during the winter. I try to freeze what I can during the summer and to supplement, I buy the large bags of organic frozen veggies at Costco and keep a couple varieties on hand at all times. This ensures that we will always get some sort of veggie in with our meal, especially in the winter when the pickin's are slim. If you have a garden or shop at the farmers market, you can start prepping and freezing your own veggies during summer for the cold winter months ahead. I have a couple tutorials on how to freeze tomatoes, how to freeze Swiss chard, and how to frees zucchini or summer squash. Learn how to freeze berries, and also how to preserve herbs.
3. Invest in good storage containers. For broth, soup, gravy, etc. I use Mason jars. I only fill them half full and then I allow them to freeze completely before capping them. In all the years that I have been doing this, I have only had a couple of broken jars, and those were typically because I was not careful enough removing them from the freezer, or in one case, it slipped and fell to the floor.
I do try to avoid plastic as much as possible, but there are times where I do use Ziploc bags or plastic wrap. I also still use Tupperware on occasion. I know, I know, I should know better. But, you know what? I'm not perfect and I am doing the best I can, plus investing in new storage containers can be expensive, so I add to my collection as my budget allows. I sometimes freeze stock, gravy, mashed potatoes, sauces, etc., in Ziploc bags, because I find that I can lay them flat and I can store so much more that way. Even with two freezers, when I go crazy on the batch cooking, space becomes limited.
I also recommend glass storage containers. I have two different sets, and I love both. The first are the blue (and sometimes red) lidded sets by Pyrex (see an example here). The second are a brand is Glasslock Snapware. I got a really good deal on a set at Costco and if they ever have them in stock again, I am going to buy a couple more boxes. I love these (see an example here).
For many other foods (like meatballs, meatloaf, etc.), I use my vacuum sealer. I am careful when I open the sealed bags and try to wash and reuse the bags as often as possible to keep down on costs.
4. Keep an inventory list. This works for me … about half of the time. The problem that I have is remembering to update it when I add and remove stuff from the freezer. However, I know that if I would regularly do that, it would make my life so much easier! Every so often, I will go through both freezers and take an inventory of what we have and then we do our best to eat through everything on hand, before making anything new. It's good to make sure you are constantly rotating your inventory. I can't tell you how many times I have found something buried in the bottom of the freezer that I didn't even know we had!
What Types of Foods are Good for Batch Cooking?
There are a lot of different things that you can cook in large batches, portion, and freeze. I do a lot of soups, stews, chilis, and things like meatballs, meatloaf, taco meat, etc. Here are a bunch of Delicious Obsessions' recipes to get you started. I have made all of the following and frozen in portions, so I know they freeze and reheat well.
Soups and Stews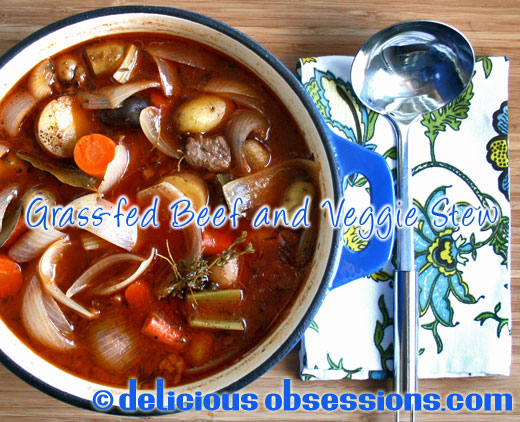 Hearty Grass-fed Beef and Vegetable Stew: One of our all-time favorite meals! Reheats wonderfully and is hearty and filling.
Grass-fed Stout Beef Stew: Another beef stew recipe, but with a twist by adding stout beer. Tastes amazing, as long as you can handle the wheat from the stout.
Creamy Coconut Lentil Soup: If you're eating legumes, this soup is a great one for batch cooking. Very filling and full of flavor.
French Onion Soup: Simple and classic, but freezes well and I personally think it tastes better when re-heated.
Chicken and Vegetable Soup: Classic soup that freezes well. Throw whatever veggies you have on hand in there. A great way to use up leftovers!
Turkey, Vegetable, and Wild Rice Soup: Same as above. If you're eating grains, you could use any rice of your choice, or use wild rice for a grain-free version.
Four Bean Grass-fed Beef Chili: I make this with beans for hubby and without beans for me. Chili is always a great freezer meal.
Thai Chicken Coconut Soup: Make a big batch of this to keep on hand for when you feel like you're coming down with a cold or flu.
Main Dishes, Side Dishes, and Sauces
Cottage Pie with Grass-fed Beef: One of my hubby's favorite meals. Super easy to make, plus it freezes and re-heats great!
Basic Grass-fed Beef Meatballs: Meatballs can be used for a wide variety of dishes, appetizers, and snacks. They're great to have on hand.
Basic Grass-fed Beef Meatloaf: I make huge batches of meatloaf and freeze the individual loaves (sliced) for fast and easy dinners.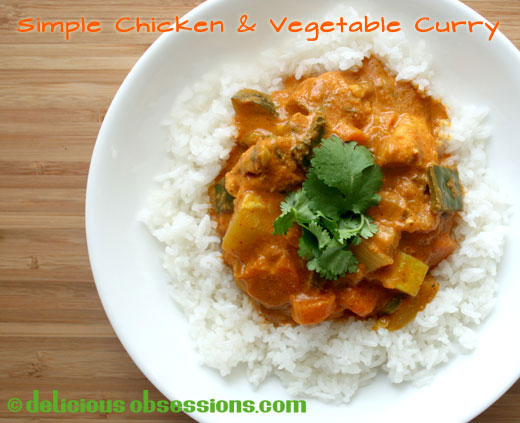 Simple Chicken and Vegetable Curry: One of my all-time favorite meals. Freezes and reheats wonderfully!
Curried Chickpeas: Another tasty curry recipe that freezes well and reheats just as well!
Broccoli Cheese Quiche: Quiches are fast meals in the first place, but they're even faster when you make them ahead and freeze. Just pop them in the oven and dinner (or breakfast or lunch) is served!
Garlic Cheddar Mashed Potatoes: I don't eat potatoes, but hubby loves mashed. I make big batches of mashed and freeze them in individual portions for him.
Homemade Enchilada Sauce: Make big batches of this in advance and have it on hand for quick Mexican-style dinners.
Breads, Snacks, and Treats
Pumpkin Spice Bread (version 1): Bake several loaves, let cool, slice, and then freeze for quick snacks or sides for future meals.
Pumpkin Spice Bread (version 2): Bake several loaves, let cool, slice, and then freeze for quick snacks or sides for future meals.
Lemon Coconut Blueberry Macadamia Nut Muffins: These freeze wonderfully and make for quick and easy snacks on the run. Just grab one out and throw it in the toaster oven for a few minutes, or let thaw in the fridge.
Chocolate Energy Bars ("LaraBars"): These tasty treats also freeze great and can be cut into small portions for a quick snack or treat.
Healthy Homemade Nut Butter Cups: My hubby's personal fave and he prefers them frozen. A great way to get more coconut oil into your diet!
Sweet and Tangy Lemon Curd: Have a bunch of lemons and eggs? Make lemon curd. It freezes nicely. Defrost in the fridge and use for pies, as a topping, or just eat it by itself! Great for fast desserts when you have unexpected guests!
Coconut Cream Truffles: These individual treats satisfy my sweet tooth with no added sugar. Let defrost for a few minutes and enjoy a healthy, satisfying treat!
Even MORE Recipe Ideas!
Want more recipes? Check out some of these great recipes from my friends and favorite bloggers, all of which are perfect for big batch cooking and freezing!
Soups and Stews
Mexican White Bean Soup from Cooking Traditional Foods
Crock-pot White Chicken Chili from Cooking Traditional Foods
Crock-Pot Chicken Tortilla Soup from Cooking Traditional Foods
Heart Healthy Chili from Divine Health
Cheeseburger Soup from Pickle Me Too
Spaghetti Sauce Soup from Loving Our Guts
Main Dishes and Side Dishes
Hidden Veggie Sloppy Joes from Cooking Traditional Foods
Bourbon Chicken from Cooking Traditional Foods
Pakistani Kima (Beef Curry) from Whole New Mom
Easy Baked Chicken Nuggets from Whole New Mom
Indian Red Lentils from Whole New Mom
Bacon and Egg Cups from Pickle Me Too
Southwestern Individual Meatloaves from Pickle Me Too
Refried Beans from Pickle Me Too
Crab and Asparagus Mini Quiches from Divine Health
Easiest Crockpot Beef Ever from Divine Health
Mexican Pulled Beef with Kale from Divine Health
Easy Cheese Turkey Meatloaf from Vicariously Vintage
Snacks, Treats, and Sweets
Easy Pate from Cooking Traditional Foods
Pumpkin Muffins from Divine Health
Soft Pumpkin Cookies from Whole New Mom
Chocolate Coconut Bars from Whole New Mom
Coconut Butter Sandwich Bread from Loving our Guts
That should be enough to get you started! What are your favorite recipes for batch cooking? Do you have any tips, tricks, or ideas to share? Leave a comment below!

Delicious Obsessions is a participant in the Amazon Services LLC Associates Program, an affiliate advertising program designed to provide a means for us to earn fees by linking to Amazon.com and affiliated sites.Read our full terms and conditions here.