FTC Disclosure: This post contains affiliate links which means if you make a purchase through one of these links, I may earn a small commission on your sale which allows me to cover a portion of the cost of running the Delicious Obsessions site and free content we provide every week. This has no effect on your price and is simply a cost of doing business from the company you purchase from. I only recommend products or services that I have personally tried and love. You can view it like leaving a tip. Thank you for your support!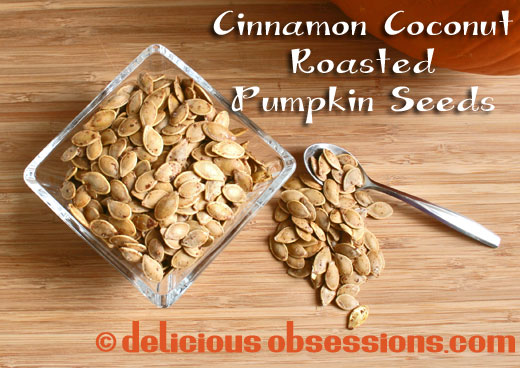 When it comes to these cinnamon coconut roasted pumpkin seeds, I seriously have to control myself. It is really easy for me to sit down and eat an entire bowl in one sitting! So, I have to portion out how much I can eat at a time to keep me from going overboard. They are just. that. good.
To me, roasting pumpkin seeds after you've gutted a pumpkin seems like the easiest and most natural thing to do. But, I am constantly amazed at how many people I talk to who don't know how to do it. So, that is why I wanted to share this recipe. It's super easy and delicious. You'll wonder why you always threw those seeds away! The spices can always be adjusted to suit your preference. As a matter of fact, pumpkin pie spice tastes AMAZING on these as well, so if you're in the mood, you could throw some of that in there too!
Now, a quick note. I personally soak these seeds first for 24 hours before roasting. I am not sure that it really does any good, considering that they still have the outside shell on. However, I do it just out of habit. Feel free to skip this step. Or, if you want, you can shell the pumpkin seeds (a lot of work) and then soak them like you would any other seed. Since you probably won't be eating these all the time, it is not going to hurt to skip the soaking. It really is up to you.
Cinnamon Coconut Roasted Pumpkin Seed Recipe
I have linked to the products from my affiliate partners that I personally use and recommend.
Ingredients
Seeds from pumpkin (we cut up two medium pumpkins and ended up with about 2.5 cups of seeds)
Fresh cinnamon (Vietnamese is my fave. Read why here.)
Sea salt
Instructions
1. After you remove the seeds from the pumpkins, you have two choices: (1) remove as much of the slimy membranes as possible from around the seeds, or (2) just throw it all on a pan and stick it in the oven. Since I like to soak mine in salt water, I prefer to remove the membrane. It's not that hard. Just remove the bigger pieces and then throw the seeds in a bowl and fill with water. Stir the seeds around with your hand a little and most of the membrane will sink to the bottom of the bowl. You can then skim off the seeds and throw them in a colander and rinse. If tehre are little bits of membrane left, it's no biggie. I just like to get most of it out.
Or, if you've not soaking them, just spread the seeds (membranes and all) out on a sheet pan and skip on to step 4.
2. If you're soaking them, dissolve 1 tbsp. sea salt into 2 cups of water and place your seeds in there. Cover and leave out to soak for 24 hours. I like to put mine in my oven where it stays a tad warmer.
3. After the 24 hours is up, rinse the seeds and then put them on a sheet pan or your dehydrator trays.
4. If you're using a dehydrator, follow the manufacturers instructions for dehydrating seeds. I usually dehydrate mine at 100 degrees for around 14-18 hours.
5. If you need to use an oven, pre-heat your oven to the lowest temperature possible and then add put the seeds in. Dehydrate in the oven until the seeds are crispy. This takes about 4 hours at 160-170 degrees in my oven.
6. When the seeds are crispy, remove from the oven and toss them in a couple tablespoons of melted coconut oil (the Green Label Virgin Coconut Oil from Tropical Traditions has a great flavor), fresh ground cinnamon, and sea salt. Feel free to add any other spices you might want in at this point. If you wanted to add a little sweetness, you could throw in some sweetener of your choice at this time.
7. When all of the seeds are coated, spread them out on the sheet pan and throw them back in the oven for about another hour (I keep my oven at 170). You want most of the oil to be absorbed into the seed and they should be a golden brown color.
8. Remove from heat and let cool. Store in an airtight container. And, please, try not to eat them all in one sitting!
*Advertisements from my trusted affiliate partners*
Paid Endorsement Disclosure: Delicious Obsessions is a participant in the Amazon Services LLC Associates Program, an affiliate advertising program designed to provide a means for sites to earn advertising fees by advertising and linking to AMAZON.COM. This post may contain affiliate links and/or ads. We only recommend products or services that we have personally tried and love. When you make a purchase through any of these links, we earn a small commission on each sale, which allows us to cover a portion of the cost of this site. This has no effect on your sale price and is simply a cost of doing business for the company you are purchasing from. All funds received help with the continued maintenance of this website and free content. You can view it like leaving a tip. Thank you! Read our full terms and conditions here.

Jessica is a real food wellness educator and the founder of the Delicious Obsessions website. She has had a life-long passion for food and being in the kitchen is where she is the happiest. She began helping her mother cook and bake around the age of three and she's been in the kitchen ever since, including working in a restaurant in her hometown for almost a decade, where she worked every position before finally becoming the lead chef. Jessica started Delicious Obsessions in 2010 as a way to help share her love for food and cooking. Since then, it has grown into a trusted online resource with a vibrant community of people learning to live healthy, happy lives through real food and natural living.