FTC Disclosure: Delicious Obsessions may receive comissions from purchases made through links in this article. As an Amazon Associate I earn from qualifying purchases.Read our full terms and conditions here.

Last week, we discussed milk kefir and kefired cream, so I won't go into a lot of detail about the subject. However, I did promise a recipe for kefir ice cream! This ice cream is a probiotic treat – rich, tangy, creamy, nourishing, and delicious! This is not the kind of ice cream that you sit down and eat a ton of. It is very rich, due to the fact that the recipe only calls for kefir cream. You only need a very small serving to be satiated, however, the tangy flavor of the kefir does help cut through some of the richness.
Over the years, I have experimented with a lot of different ice cream recipes. The thing that I always struggled with, and I hear other people struggle with too, is that homemade ice cream sets up as hard as a rock. I always wondered if there was a way around that, without using stabilizers and other junk. Thankfully, I stumbled across a post from GNOWFGLINS and my ice cream making improved dramatically. Wardeh gives 7 tips for perfect homemade ice cream, and the two things that took my ice cream to a new level are:
Use more cream and less milk. Like Wardeh, I use 100% cream in my recipes (no milk or 1/2 and 1/2 — just cream).
Use a solid sweetener like coconut sugar, rapadura, sucanat, or organic cane sugar. Using liquid sweeteners like honey and maple syrup (affiliate links) adds more water to the ice cream and leads to a harder setup in the freezer. Also, it is helpful if the sugar is super fine, so I whiz mine up in my food processor first.
Now, my homemade ice cream does get hard, but not so hard that I can't scoop it out of the container if I'm impatient and just want to eat ice cream now! That said, homemade ice cream does taste much better when it has been allowed to warm up just a tad. A little meltiness (like the photo above) of the cream allows for the rich flavors to become much more prominent. Try letting it sit out for 5-10 minutes before serving. Try topping it with some homemade coconut oil "Magic Shell" for an extra special treat!
Intimidated by the thought of making your own ice cream at home? Don't be! It's so easy and here are 5 Tips for Perfect Homemade Ice Cream. My passion for homemade ice cream and frozen treats is exactly why I wrote my eBook, The Splendid Scoop. You can learn more about that book here, or read on down to the bottom of this article.
Kefir Ice Cream: Vanilla or Chocolate
makes 1.5 quarts
I have linked to the products from my affiliate partners that I personally use and recommend.
Ingredients
Instructions
In a large mixing bowl, beat the eggs on low speed until creamy. You can also do this by hand, or use a blender or food processor.
Add the sugar, vanilla and salt and mix until combined and the sugar has dissolved. If you're making chocolate ice cream, add the cocoa powder in at this step.
Pour the kefired cream into the egg mixture and mix on low until completely combined.
Chill the mixture in the fridge for a minimum of 4 hours, or overnight.
Pour liquid into your ice cream maker and proceed according to your manufacturer's instructions.
When the ice cream is done, pour into a shallow dish and freeze for several hours before serving. If the ice cream sets up too firm, then let it sit out for 5-10 minutes and it will soften. The flavor will be much better after it has warmed up a little.
Want to Learn How to Make Your Own Ice Cream Perfection At Home?
I've got you covered in my best-selling eBook, The Splendid Scoop and Other Frozen Treats: Delicious and Easy Dairy-Free Recipes, Plus Tips and Tricks for Homemade Ice Cream Perfection!
When the weather gets warm, nothing is more delicious than a bowl of cold ice cream or a delicious frozen treat. But, when you're on a restricted diet, finding treats that are suitable for your needs can be tricky. Plus, what happens when you want to make ice cream, but don't own an ice cream maker? Can you still make tasty treats without all the special equipment?
Yes! You can!
That is why I created The Splendid Scoop and Other Frozen Treats eBook! I, myself, am on a restricted diet for health reasons and when the weather starts warming up over 65 F, I start to get cranky. ? I am definitely a cool weather gal and one way to keep me sane and satisfied during the height of summer is knowing that I can make something delicious, at home, using healthy ingredients that fit my lifestyle.
All of the recipes in this book are dairy, grain, and gluten free. They can easily be modified for the autoimmune protocol as well, making them extra special for those on super restricted diets.
In The Splendid Scoop and Other Frozen Treats eBook, You Will Learn:
Why making your own ice cream and frozen treats at home is better than buying them at the store (even the organic ones!).
Tips and tricks for homemade ice cream success.
How to make ice cream without an ice cream maker (it's easier than you think!).
Delicious dairy-free recipes the whole family will love (recipes are also gluten and free and can easily be adapted for the autoimmune protocol as well).
Extensive resource suggestions for real food, wellness, and beyond.
Don't let another summer or special occasion pass you by. No longer will you have to watch your friends and family indulge on their favorite frozen treats while you sit on the sidelines due to your dietary restrictions.
Now you can enjoy creamy, delicious, and allergen-friendly frozen treats once again with The Splendid Scoop.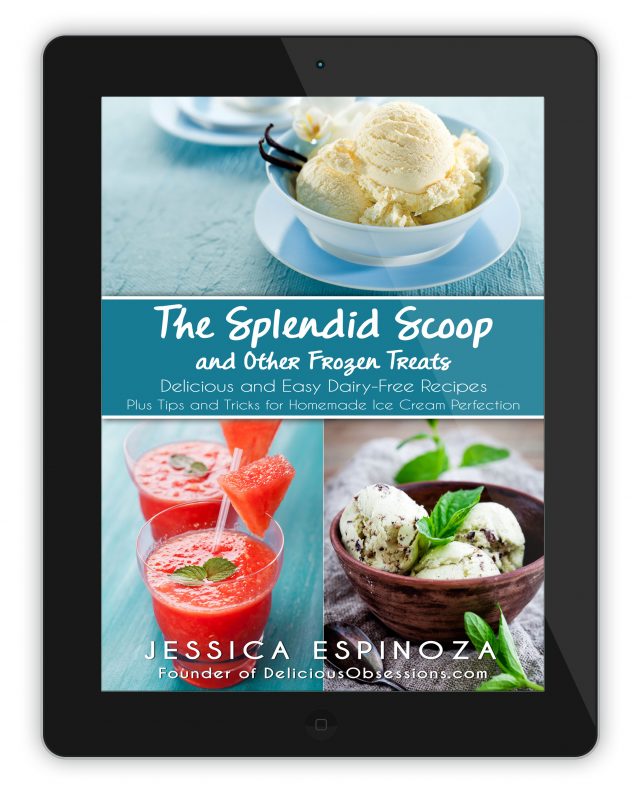 Delicious Obsessions is a participant in the Amazon Services LLC Associates Program, an affiliate advertising program designed to provide a means for us to earn fees by linking to Amazon.com and affiliated sites.Read our full terms and conditions here.