FTC Disclosure: This post contains affiliate links which means if you make a purchase through one of these links, I may earn a small commission on your sale which allows me to cover a portion of the cost of running the Delicious Obsessions site and free content we provide every week. This has no effect on your price and is simply a cost of doing business from the company you purchase from. I only recommend products or services that I have personally tried and love. You can view it like leaving a tip. Thank you for your support!
These cupcakes are the perfect treat for birthdays and special occasions. Rich and decadent, making them the perfect dessert for these get-togethers with family and friends.
The cupcakes are gluten free, using a combination of coconut flour and sprouted quinoa flour (courtesy of To Your Health Sprouted Flour Co. Read my review here).
They are full of protein and fiber and have a wonderfully moist texture. They are super filling, so one per person will probably be sufficient if you're planning a party.
These cupcakes are not overly sweet, which is the perfect combination of the frosting, which is rich and chocolaty, with a splash of citrus to liven it up. The key with these cupcakes is to not over bake them, or else they will end up dry and crumbly.
Delicious Obsessions Product Recommendations
My affiliate partner, Vitacost, has really good prices on some of the ingredients in this recipe. If you sign up through this link, you'll get a coupon for $10 off your first purchase from Vitacost, and when your order ships, I'll get a $10 off coupon for referring you. The cool thing about this program is that you can then refer your family and friends through your own link and YOU can get the $10 coupons too! 🙂
Amazon, of course, has everything you need for this recipe. Their prices are often very good, though I love to shop around and sometimes find that Vitacost and Thrive Market have better deals. If you like saving money, it's good to shop around! 🙂
In addition, my affiliate partner, Tropical Traditions, is where I get all of my coconut products from and if you make a purchase from them through any of my links, you will receive a free copy of their Virgin Coconut Oil book, and I will receive a discount coupon for referring you.
Gluten Free Chocolate Cupcakes
I have linked to the products from my affiliate partners that I personally use and recommend.
makes 18 cupcakes 
Ingredients
Instructions
Preheat oven to 350 degrees.
Melt a little coconut oil and brush the insides of your cupcake pans. If you're using cupcake papers, you can brush the insides of those to help keep them from sticking.
In a medium bowl, sift the coconut flour to make sure all lumps are removed.
Add the quinoa flour, cocoa, baking powder, baking soda, and sea salt to the coconut flour and stir until combined.
In your electric mixing bowl, combine the eggs, melted coconut oil, honey, and stevia and mix on low speed until combined.
Add the coconut milk and vanilla and combine.
With the mixer running on low, slowly add in the dry ingredients.
Mix on low until completely combined.
Fill cupcake papers or cupcake tins 3/4 full. Gently tap the pans on the counter to get the batter to settle evenly.
 Bake at 350 degrees for 15-18 minutes, or until a toothpick comes out clean. Be very careful not to over bake.
Let cool completely before frosting (see the following recipe).
Rich Chocolate Orange Frosting
Make approx. 1 1/2 cups 
Ingredients
Instructions
Using the whisk attachment for your mixer, whisk the butter, honey, and palm shortening together until well combined.
Turn the mixer to low speed and add the cocoa powder, orange zest, stevia, orange extract, and sea salt. Mix on low until combined.
Increase the speed and mix until light and fluffy.
You can use this frosting on cupcakes, cakes, and even cookies. You can also omit the cocoa and orange for a basic vanilla frosting if you prefer.
Learn How to Make Perfect Ice Cream (and Other Frozen Treats) at Home
Ice cream is the quintessential dessert (and, ahem, it would probably go pretty darn great with this recipe!). I mean, I can't think of a single person that I've ever met who doesn't like ice cream. While not everyone is as passionate about the cold, creamy, sweet concoction as I am, I am betting that if you're reading this, you probably enjoy a frozen treat of some sort every now and then.
If so, then I have the PERFECT resource for you today.
I am crazy for ice cream, but I find that there are very few commercial ice creams that I can eat. I can't do dairy, so that scratches a good 75% of them off the list. And the non-dairy options either taste funny, have too much sugar, or have weird gums and additives that my poor gut just doesn't tolerate.
So, what's a gal to do?
Master the art of making her own ice cream at home, that's what!
And create I did and The Splendid Scoop and Other Frozen Treats eBook was born! This is one of my best-selling eBooks because I arm you with everything you need to make your own perfect ice cream (or other frozen treats) at home any time you want. 
And I do it all with real food ingredients, no refined sweeteners, not gums, not stabilizers. No junk here.
Oh, and I also have made the recipes allergen-friendly and even adaptable for stricter healing diets (like the AIP).
So, if you are ready to master the art of making your own ice cream at home, this is the perfect book for you. Don't let another special occasion or hot day in the summer pass you by watching everyone else enjoying cold treats while you sit on the sideline due to your dietary restrictions.
No more!
If you are ready to learn more about The Splendid Scoop and Other Frozen Treats and see how you can download your own copy today, click here (or just click on the image below!).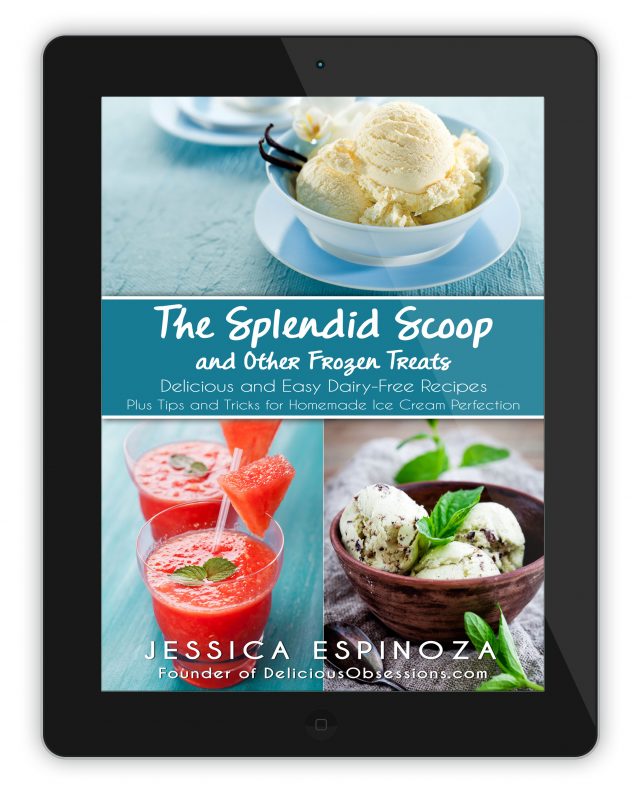 Paid Endorsement Disclosure: Delicious Obsessions is a participant in the Amazon Services LLC Associates Program, an affiliate advertising program designed to provide a means for sites to earn advertising fees by advertising and linking to AMAZON.COM. This post may contain affiliate links and/or ads. We only recommend products or services that we have personally tried and love. When you make a purchase through any of these links, we earn a small commission on each sale, which allows us to cover a portion of the cost of this site. This has no effect on your sale price and is simply a cost of doing business for the company you are purchasing from. All funds received help with the continued maintenance of this website and free content. You can view it like leaving a tip. Thank you! Read our full terms and conditions here.