FTC Disclosure: This post contains affiliate links which means if you make a purchase through one of these links, I may earn a small commission on your sale which allows me to cover a portion of the cost of running the Delicious Obsessions site and free content we provide every week. This has no effect on your price and is simply a cost of doing business from the company you purchase from. I only recommend products or services that I have personally tried and love. You can view it like leaving a tip. Thank you for your support!
UPDATE August 2012: Since Amanda shared this recipe on this site, I have switched my fermenting methods. I am no longer using Mason jars for my fermenting. I am using anaerobic fermenting jars. The recipe is easily converted over by simply replacing the Mason jar with an aerobic vessel. The rest of the recipe and instructions stay the same. 
This week's post comes to us from my friend Amanda at Traditional Foods. I love Amanda's site and she regularly inspires me to explore foods that I may have never had the courage to try. Her food profiles often give me the scientific information that I would not otherwise be motivated to find. Recently, I have been reading a lot about nettles and all the good things they do for the body, so when she said she has a fermented nettle post she wanted to share, I was thrilled! Please welcome Amanda Rose, from Traditional Foods to 52 Weeks of Bad A** Bacteria!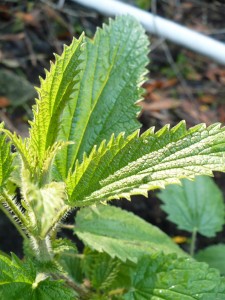 The land here in California has been doused with rain has begun to warm. Stinging nettle bursts from the warming soil waiting to brush unknowing hikers with their almost invisible stinging hairs.
A friend calls. "Amanda, I have nettle all over the place. Are you coming?"
I load my car with leather gloves, clippers, and boxes. I wear long
sleeves, pants, and boots and I may still return home "stung." I am very
sensitive to the sting of the nettle which will leave a burning rash on my
skin for several days. This year I wear an extra pair of latex gloves
under the leather gloves to improve my luck.
It may seem crazy to risk days of rash to harvest a "weed," but nettle makes a great tonic and has a long tradition in folk medicine. Germans have used nettle leaf to treat arthritis. It may even relieve hypertension, hay fever, kidney problems, some skin conditions, and pain. It was the claim that nettle treats iron deficiency anemia that got my attention.
Nettle contains a decent bit of iron — nearly 10 percent of your daily requirement in 100 grams of nettle as listed here. This is not a huge amount of iron and yet many women claim it helps improve their iron deficiency. Hearing the testimonials some years back and working on my iron website, I gave it a try. I cannot claim that it turned around a deficiency — I was not measuring. I was busy harvesting nettle with stinging hairs. I was feeling a better sense of wellness, however.
In the process, I had a thought: "If I feel better drinking nettle tea, what if I fermented the tea?"
Fermenting Nettle Improves It
Fermentation changes food and it certainly can improve iron availability. In one 2005 study, researchers fermented carrot juice and found that the soluble iron in the juice improved by up to thirty times. In that study, researchers identified mineral inhibitors in the carrots that were broken down by fermentation. Who knows what inhibitors nettle leaf do or do not contain, but fermentation is cheap and easy so I gave it a shot.
As I drank my fermented concoction, I felt that deep sense of wellness you may also feel when you find a food your body loves. I drank the tea for two days and the burning rash on my forearms became trivial.
It is this memory of fermented nettle tea that sends me to my friend's house dressed for combat.
I visit with my friend, harvest nettle, and leave with the beginnings of a small rash on my forearm and boxes of nettle stems. At home I throw the nettle stems in a four-gallon kettle, cover them with water, bring them to a boil, turn off the heat, cover them, and let the nettle infuse the water overnight.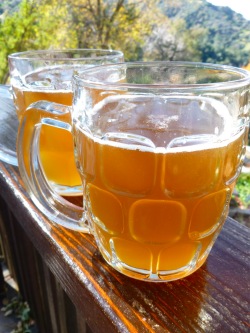 With dried nettle leaves, you can do something similar: Make a strong nettle tea as you would any herbal infusion. Bring the water to a boil and let it sit covered overnight. Dried nettle has the strong advantage of being a rash-free experience, but there is something special about fresh nettle if you have access.
For extra flavor, you might even add mint leaves. Nettle is fairly bland
on its own.
Once my tea is ready, I ferment it with a water kefir process. The process is simple but it requires water kefir grains, grains which I recommend you include in your fermentation arsenal anyway. For a more complex tutorial about brewing water kefir, check out 52 Weeks of Bad A** Bacteria – Week 26 – How to Make Water KefirHow to Brew Water Kefir here.
For this recipe, here are the steps:
As with many water kefir recipes, add sugar water to your water grains and let them sit for a day. I combine about a half cup of sugar with one cup of boiling water to dissolve the sugar and then let the mixture cool before adding it to the water grains.
Strain your sugar water from the grains after about 24 hours and set the grains aside for another project. Your sugar water is now loaded with bacteria from the grains and is ready to be added to your nettle tea.
Proportions are forgiving in this project, but I add the sugar mixture to about a gallon of strong nettle tea in a glass jar.
Place the glass jar in a warm (but not too warm) cubby in your house — about 65 degrees give or take. Cover the jar with a tea towel and let it ferment until it reaches an appropriate sweetness. Taste your tea regularly and if it is too sweet, simply let it sit longer.
One warning is that a very strong nettle tea will actually gel a bit when it is fermented. When this happens, I still feel great drinking it, but the texture is strange and can be a turn-off. You can always back off on your nettle concentration if this happens.
Harvest Time
In many parts of the country, stringing nettle is ready to harvest right how and will be available perhaps for about six weeks. Go forth and harvest, wearing many layers of clothes.
If you don't have access to fresh nettles, you can buy them online from Amazon or Mountain Rose Herbs
I recommend the anaerobic fermenting systems from The Probiotic Jar.
For more information on water kefir, check out these posts:
About Amanda Rose
Amanda Rose is the author of Rebuild From Depression – A Nutrient Guide, and she writes at the Traditional Foods website from the heart of the Sequoia National Forest. You can also find her work on the Iron Rich Foods website. You can connect with Amanda on Facebook, Twitter, Pinterest, and YouTube.
Reference
S.W. Bergqvist, A.-S. Sandberg, N.-G. Carlsson, T. Andlid, 2005. "Improved iron solubility in carrot juice fermented by homo- and hetero-fermentative lactic acid bacteria."Food Microbiology, Volume 22, Issue 1, p. 53-61.
Paid Endorsement Disclosure: Delicious Obsessions is a participant in the Amazon Services LLC Associates Program, an affiliate advertising program designed to provide a means for sites to earn advertising fees by advertising and linking to AMAZON.COM. This post may contain affiliate links and/or ads. We only recommend products or services that we have personally tried and love. When you make a purchase through any of these links, we earn a small commission on each sale, which allows us to cover a portion of the cost of this site. This has no effect on your sale price and is simply a cost of doing business for the company you are purchasing from. All funds received help with the continued maintenance of this website and free content. You can view it like leaving a tip. Thank you! Read our full terms and conditions here.