FTC Disclosure: This post contains affiliate links which means if you make a purchase through one of these links, I may earn a small commission on your sale which allows me to cover a portion of the cost of running the Delicious Obsessions site and free content we provide every week. This has no effect on your price and is simply a cost of doing business from the company you purchase from. I only recommend products or services that I have personally tried and love. You can view it like leaving a tip. Thank you for your support!
<<Update 03/20/12 — Make sure you take some time to read through the comments on this post. When I first wrote this post back in January 2012, I thought 52 uses for coconut oil was amazing. Little did I know that my readers would leave double, and probably even triple that many new uses in the comments!>>
Really? 52 different ways to use coconut oil? How is that even possible?! Well, it is and I'm sure there are ways that people use it that aren't even on my list! I use so much coconut oil in my house! I go through one and a half to two quarts a month. Not only do we use it for cooking and eating, but we use it for a variety of other things, many of which are on this list! What is your favorite way to use coconut oil?
DISCLAIMER: Please note, these uses are not intended to diagnose, treat, or cure any disease. They are simply testimony of people who have used coconut oil for various things and have had success. Also, please remember that what works for one person may not work for another person. It is always wise to consult with your doctor before changing your diet. In the case of pets, it's a wise idea to consult with your vet before changing your pet's diet.
52 Uses for Coconut Oil
Eat a spoonful when you need an energy boost.
Use it as the base for a homemade body scrub. 
Use to condition your wooden cutting boards.
Use as a super conditioner on your hair (apply to dry hair, leave in as long as possible and then shampoo as normal).
Use as a styling agent if you have really dry hair. Just rub a tiny bit on your palms and apply to your hair and style as normal.
Keep a little container in your purse for lip moisturizer.

 

Add a spoonful to your dog or cat's food. CO is great for our furry friends!
Replace nasty, unhealthy vegetable oils in your cooking and baking with CO.
Make healthy Magic Shell ice cream topping.
Use it for oil pulling (learn about oil pulling here).
Use a tiny dab on your underarms for a natural deodorant.
Use coconut oil instead of shaving cream.
Add to your bath tub for a moisturizing soak (a couple drops of peppermint oil is wonderful!).
Use as a makeup remover.
Use it to help sooth chicken pox, shingles, or other rashes or skin irritations.
Use it to treat athlete's foot, ringworm, or other fungal or yeast infections.
Take a spoonful with your vitamins to help improve absorption.
Spread a thin layer on cuts or burns to speed up healing.
Take up to 5 spoonfuls per day for improved thyroid function.
Use on the delicate tissue around your eyes to help prevent wrinkles and sagging.
Use as the base for homemade toothpaste

 

or lotion.
Use in place of massage oil.
Use on your baby's diaper rash or cradle cap.
Use to help reduce visibility of stretch marks or to prevent stretch marks.
For nursing mothers, use coconut oil on your nipples to prevent cracking and irritation.
For nursing mothers, consuming coconut oil will help increase your milk flow.
Apply to bee stings or bug bites to soothe and heal the wound.
Women can use in the nether regions to relieve yeast infections, dryness, and/or discomfort.
Eat a spoonful with each meal to improve digestion.
If you're prone to nosebleeds, coat the inside of your nostrils with coconut oil regularly.
Helps soothe and heal hemorrhoids.
Take to help reduce or eliminate migraines.
Use as the base for homemade vapor rub.
Mixed with peppermint, lemon balm, rosemary, or tea tree oil makes an excellent insect repellent.
Mix with baking soda for a non-toxic "Goo Gone".
Use to help detox the body during a cleanse or fast.
Use as a metal polish, but always test a small area first.
Use as a leather moisturizer.
Season your cast iron pans.
Use to oil your pans and baking dishes instead of pan spray.
Got gum stuck in your hair? Try using coconut oil to remove without cutting your hair.
Use instead of WD-40.
Use as a personal lubricant (not safe with latex).
Take a spoonful to help with heartburn, acid reflux, or indigestion.
Use as a natural sunscreen.
Mix with a tiny bit of fresh lemon juice and use as a furniture polish (always test a small area first!).
Mix with butter and toss your popcorn in it.
Use on cracked or rough heals to help smooth them out.
Massage into your nails and cuticles to help strengthen them.
Use as the base for homemade chocolate candy (like peanut butter cups).
Take a couple spoonfuls every day to help overall immune function.
Check out the printable list of 122 Uses for Coconut Oil
Check out these fun graphics with different ways to use Coconut oil
What is your favorite way to use coconut oil? Do you use it for anything that's not on this list? Leave me a comment below!
If you're interested in making your own skin care products, I highly recommend this eBook: "Coconut Oil For Your Skin – Nourishing Your Body From The Outside In" from my affiliate partner. This is a great book that shows you how to nourish your body from the outside in, using coconut oil!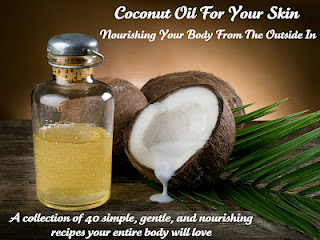 For lots of health-related information on coconut oil, I have found this book from the founders of Tropical Traditions to be very informative. If you're a new customer, you can receive a copy for free on your first purchase, and I get a discount coupon for referring you! Click this link to place your order and receive your free book!
Paid Endorsement Disclosure: Delicious Obsessions is a participant in the Amazon Services LLC Associates Program, an affiliate advertising program designed to provide a means for sites to earn advertising fees by advertising and linking to AMAZON.COM. This post may contain affiliate links and/or ads. We only recommend products or services that we have personally tried and love. When you make a purchase through any of these links, we earn a small commission on each sale, which allows us to cover a portion of the cost of this site. This has no effect on your sale price and is simply a cost of doing business for the company you are purchasing from. All funds received help with the continued maintenance of this website and free content. You can view it like leaving a tip. Thank you! Read our full terms and conditions here.

Jessica is a real food wellness educator and the founder of the Delicious Obsessions website. She has had a life-long passion for food and being in the kitchen is where she is the happiest. She began helping her mother cook and bake around the age of three and she's been in the kitchen ever since, including working in a restaurant in her hometown for almost a decade, where she worked every position before finally becoming the lead chef. Jessica started Delicious Obsessions in 2010 as a way to help share her love for food and cooking. Since then, it has grown into a trusted online resource with a vibrant community of people learning to live healthy, happy lives through real food and natural living.