FTC Disclosure: This post contains affiliate links which means if you make a purchase through one of these links, I may earn a small commission on your sale which allows me to cover a portion of the cost of running the Delicious Obsessions site and free content we provide every week. This has no effect on your price and is simply a cost of doing business from the company you purchase from. I only recommend products or services that I have personally tried and love. You can view it like leaving a tip. Thank you for your support!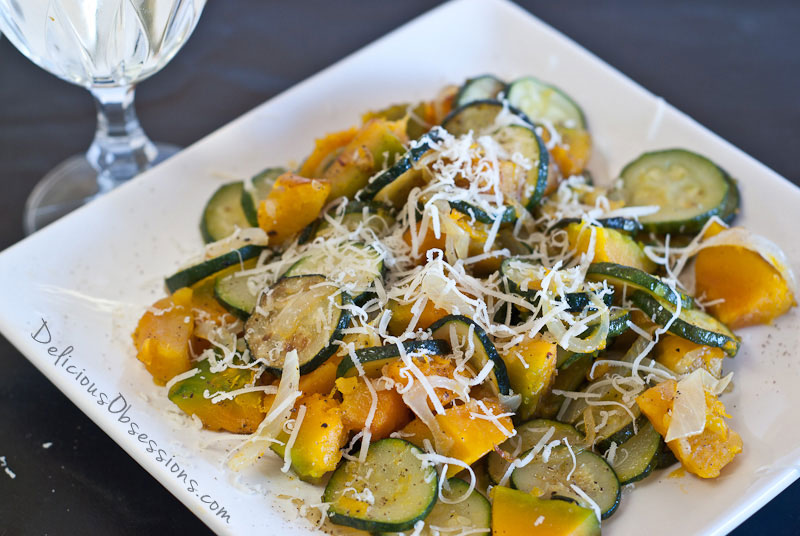 You probably know by now that I love fast and easy meals and this simple side dish of zucchini, squash, and onions is a cinch to whip up and super delicious!
We're all busy, but we know the importance of eating healthy, real food, so even if it take a little longer, most of the time (we're not perfect!) we go out of our way to fix wholesome meals.
This is a super fast side dish that only take a few minutes to prepare and is a great way to get a few veggies into one meal. Feel free to add in whatever veggies you have on hand. The squash and zucchini combination reminds me of something my mom used to make, so that's why I love it, but as with all of my recipes, I encourage you to make them your own. 🙂
Shout out to my friend Suzanne from Strands of My Life for shooting the photo for this recipe!

Simple Side Dish: Zucchini, Squash, and Onions
I have linked to the products from my affiliate partners that I personally use and recommend. All funds earned go to help support the maintenance of this site and free content. Thank you! 🙂
Author:
Jessica Espinoza @ Delicious Obsessions
Ingredients
2 organic zucchini, washed and sliced
2 organic yellow summer squash (or squash of your choosing), washed and sliced
1 sweet onion, thinly sliced
1 tbsp. crushed garlic
salt and pepper to taste
Parmesan cheese (optional - omit if dairy free or autoimmune)
2 tbsp. coconut oil
Instructions
In a large skillet, warm your coconut oil over medium heat.
Add the squash, zucchini, onion, and garlic, and season with salt and pepper.
Cover and let cook, stirring occasionally, about 8-10 minutes or until tender, but not mushy.
Remove the lid and turn up the heat a little to brown the veggies slightly.
Serve with fresh grated Parmesan cheese.
This side dish also reheats very well and tastes wonderful added into your morning scrambled eggs or omelette!
Paid Endorsement Disclosure: Delicious Obsessions is a participant in the Amazon Services LLC Associates Program, an affiliate advertising program designed to provide a means for sites to earn advertising fees by advertising and linking to AMAZON.COM. This post may contain affiliate links and/or ads. We only recommend products or services that we have personally tried and love. When you make a purchase through any of these links, we earn a small commission on each sale, which allows us to cover a portion of the cost of this site. This has no effect on your sale price and is simply a cost of doing business for the company you are purchasing from. All funds received help with the continued maintenance of this website and free content. You can view it like leaving a tip. Thank you! Read our full terms and conditions here.

Jessica is a real food wellness educator and the founder of the Delicious Obsessions website. She has had a life-long passion for food and being in the kitchen is where she is the happiest. She began helping her mother cook and bake around the age of three and she's been in the kitchen ever since, including working in a restaurant in her hometown for almost a decade, where she worked every position before finally becoming the lead chef. Jessica started Delicious Obsessions in 2010 as a way to help share her love for food and cooking. Since then, it has grown into a trusted online resource with a vibrant community of people learning to live healthy, happy lives through real food and natural living.