FTC Disclosure: Delicious Obsessions may receive comissions from purchases made through links in this article. As an Amazon Associate I earn from qualifying purchases.Read our full terms and conditions here.

I love pickled roasted red peppers. I love the smoky flavor of the roasted red peppers, paired with the tangy vinegar of the brine. They are one of my favorite additions to salads, sandwiches, scrambled eggs, or my roasted red pepper ranch dressing. Since pepper season is here, now is the perfect time to make a jar of these. Since I haven't branched off into canning just yet, I'm not sure how to translate this recipe into canned roasted red peppers (if anyone has some ideas, please do share!).
I am always asked about my favorite ingredients and what I use in my own kitchen. I have linked to the products from my affiliate partners that I personally use and recommend. And now, here are the special coupon offers that select affiliate partners are currently offering:
Thrive Market: If you sign up through this link, you will get 15% OFF your first order.
Amazon, of course, has everything you need for this recipe. Their prices are often very good, though I love to shop around and sometimes find that Thrive Market has better deals. If you like saving money, it's good to shop around! 🙂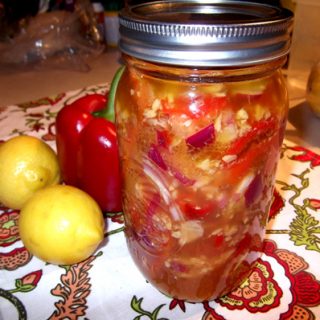 Pickled Roasted Red Peppers
This is a delicious recipe if you like red peppers. Enjoy them when you add them to salads, sandwiches, scrambled eggs, or make roasted red pepper ranch dressing.
Instructions
On a hot grill, gas burner, or oven, roast your red peppers until the skin is lightly charred.
Remove from the heat and place in a glass bowl and place a plate or lid over the bowl to keep the steam in. Let them sit until they've cooled.
While the peppers are cooling, mix the rest of the ingredients in a quart mason jar and set aside.
Once the peppers have cooled, remove the skins. The skins should slip off easily, especially if you run them under cool water.
Once you have the skins removed, you can put them in the brine whole, sliced or chopped. If you have too much brine, you can use the extra for salad dressing. If you don't have quite enough to cover the top of the peppers, then add a little more vinegar and oil.
If you want to try your hand at fermenting the peppers, I recommend any of the links above. I have yet to give it a try, but I know it can be done!
Recommended Products
As an Amazon Associate and member of other affiliate programs, I may earn a small commission from qualifying purchases.

Delicious Obsessions is a participant in the Amazon Services LLC Associates Program, an affiliate advertising program designed to provide a means for us to earn fees by linking to Amazon.com and affiliated sites.Read our full terms and conditions here.