FTC Disclosure: Delicious Obsessions may receive comissions from purchases made through links in this article. As an Amazon Associate I earn from qualifying purchases.Read our full terms and conditions here.

I had some grass-fed beef stew meat that I needed to use up and knew I wanted a hearty beef stew, but I wanted to do something a little different. Adding beer to beef stew is pretty common, especially around St. Patrick's Day. So, I decided to give it a whirl. The stew is very rich and hearty and it tastes better the next day and then even better the day after that. Like a fine wine, I think it gets better with age. This also freezes very well, so go ahead and make up a big batch and you'll have dinner ready in no time.
Stout Beef Stew
2 pounds grass-fed beef stew meat (or whatever cut of meat you'd like to use)
1 onion, finely chopped
2 cups carrots, chopped into bite sized pieces
2 cups celery, chopped into bite sized pieces
1 tablespoon garlic
1/3 cup flour
2 1/4 cups organic beef broth (homemade is best if you have any)
8-10 ounces stout beer – I recommend Guinness Extra Stout
2 tablespoons tomato paste
4 bay leaves
1/8 teaspoon thyme
1 teaspoon blackening seasoning
1/2 teaspoon salt
Coconut oil for frying
Cut up your beef into bite-sized chunks and set aside. In 6-quart dutch oven, cook the onions and garlic until browned and caramelized. Remove the onions from the pot. Using a clean paper towel, dry the chunks of beef off (this helps it brown, rather than stew). Heat a little coconut oil in the pot and add some of the beef, ensuring that you don't overcrowd the pan. You want the area surrounding each piece of meat to be open. This ensures proper browning. Rotate the beef and once it has browned on each side, remove it from the pot and start the next batch (add more oil as needed). For two pounds of meat I browned it in four batches. Once the last batch is browned, sprinkle the flour over the meat and stir until the meat is coated. Cook for about 5 minutes as you continue to stir the meat around.
Add the veggies back into the pot and then add the beer and let that cook for a couple minutes before adding the beef broth and tomato paste. Bring to a boil and then add the spices and reduce to low. Cover and let simmer for 1 hour, stirring occasionally. Taste for salt and add a sprinkle more if needed.
Serve over mashed or boiled potatoes for a hearty and filling meal.
P.S. Did you know that soups and stews are an EXCELLENT source of gelatin if you use homemade stock? Sometimes, I even add a tablespoon or so of gelatin into my bowl of soup for added nutrition. If you want to learn more about gelatin and its benefits for our health, I highly recommend this book, The Gelatin Secret: The Surprising Superfood That Transforms Your Health and Beauty, from my affiliate partner, Sylvie McCracken. This book is packed with incredible information on how gelatin helps all aspects of our health and also features delicious recipes!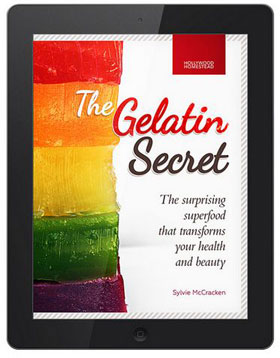 Delicious Obsessions is a participant in the Amazon Services LLC Associates Program, an affiliate advertising program designed to provide a means for us to earn fees by linking to Amazon.com and affiliated sites.Read our full terms and conditions here.