FTC Disclosure: This post contains affiliate links which means if you make a purchase through one of these links, I may earn a small commission on your sale which allows me to cover a portion of the cost of running the Delicious Obsessions site and free content we provide every week. This has no effect on your price and is simply a cost of doing business from the company you purchase from. I only recommend products or services that I have personally tried and love. You can view it like leaving a tip. Thank you for your support!
This mixed fruit cobbler is one of my comfort foods. I love the flavorful fruit combined with a crunchy topping and then topped with whipped coconut cream (or heavy cream if you can tolerate dairy). YUM!
Cobblers are one of those fantastic dishes where can just use whatever you have on hand. It's a great way to use up some frozen fruit that is a little past its prime. Pretty much any fruit will work well in a fruit cobbler. I often end up with small bits of various fruits that get shoved in the back of the freezer and when I find them, I just dump them in a pan to make cobbler. Even if the fruit is a little freezer burned, it will still make an excellent dessert.
This recipe is fast and easy to throw together.
Two of my favorite things when it comes to cooking.
Oh, and tasty. Can't forget tasty.
Want some more real food dessert recipes? Well, I have a lot that you can find here, but here are my favorites (grain and dairy free too):
P.S. How about some dairy-free vanilla ice cream for that cobbler? <–click that link for the recipe!
Shout out to my friend Suzanne from Strands of My Life for shooting the photos for this recipe!
Coupons and Freebies for Mixed Fruit Cobbler Ingredients
I am always asked about my favorite ingredients and what I use in my own kitchen. Below are special coupon offers that select affiliate partners are currently offering:
Thrive Market

: If you sign up through

this link

, you will get

15% OFF your first order

.
Vitacost

: If you sign up through

this link

, you'll get a coupon for

$10 off your first purchase.
Amazon, of course, has everything you need for this recipe. Their prices are often very good, though I love to shop around and sometimes find that Vitacost and Thrive Market have better deals. If you like saving money, it's good to shop around! 🙂
I get all of my herbs and spices from Mountain Rose Herbs. I have tried so many other brands and have never found the quality, flavor, and aroma to be as good as the herbs I get from Mountain Rose.

Mixed Fruit Cobbler Recipe (grain and dairy free)
I have linked to the products from my affiliate partners that I personally use and recommend. All funds earned go to help support the maintenance of this site and free content. Thank you! 🙂
Author:
Jessica Espinoza @ Delicious Obsessions
Recipe type:
Gluten, Grain, and Dairy Free Dessert
Instructions
In a large bowl, add the frozen fruit and let it sit out until it's about halfway thawed.
Once it's partially thawed, add the coconut sugar, vanilla, and arrowroot powder and stir until the combined.
In one separate bowl, combine the almond meal, coconut flour, shredded coconut, coconut sugar, and cinnamon and stir well.
In another separate bowl, beat the egg and add the coconut oil and combine.
Stir the liquid into the mixture and stir until combined. It should be pretty crumbly.
Oil a glass 9x13 baking dish liberally with coconut oil and add the fruit to the pan and add the flour mixture to the top.
Place the baking dish on a cookie sheet and bake at 350 for one hour. The cookie sheet with prevent any liquid that bubbles up from burning onto your oven floor.
Remove from the oven and let stand 15-20 minutes before serving.
Real Food 101 + Companion Cookbook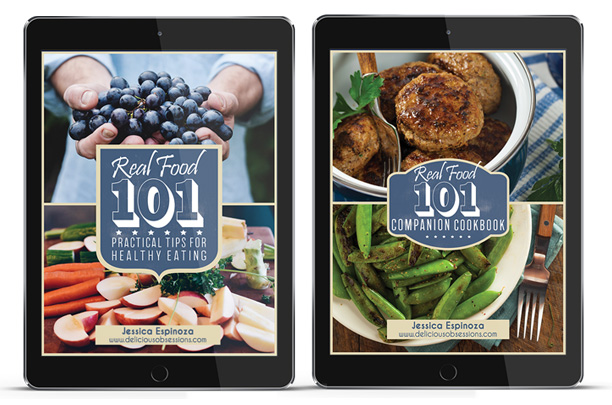 This Mixed Fruit Cobbler is just one of the amazing recipes in my newest book, The Real Food 101 Companion Cookbook! The Real Food 101 Companion Cookbook is your comprehensive guide to delicious, Real Food recipes that are easy to prepare and won't break the bank.
Created as a companion to our popular Real Food 101: Practical Tips for Healthy Eating eBook, this cookbook helps support our mission of helping people eat better and live better.
True health can only come through a solid foundation of good nutrition.
This cookbook is perfect on its own or to complement the practical wisdom in Real Food 101: Practical Tips for Healthy Eating eBook. If you're already familiar with real food and are just looking for some delicious, kitchen-tested recipes to help you stay the course, then The Real Food 101 Companion Cookbook is for you.
Paid Endorsement Disclosure: Delicious Obsessions is a participant in the Amazon Services LLC Associates Program, an affiliate advertising program designed to provide a means for sites to earn advertising fees by advertising and linking to AMAZON.COM. This post may contain affiliate links and/or ads. We only recommend products or services that we have personally tried and love. When you make a purchase through any of these links, we earn a small commission on each sale, which allows us to cover a portion of the cost of this site. This has no effect on your sale price and is simply a cost of doing business for the company you are purchasing from. All funds received help with the continued maintenance of this website and free content. You can view it like leaving a tip. Thank you! Read our full terms and conditions here.

Jessica is a real food wellness educator and the founder of the Delicious Obsessions website. She has had a life-long passion for food and being in the kitchen is where she is the happiest. She began helping her mother cook and bake around the age of three and she's been in the kitchen ever since, including working in a restaurant in her hometown for almost a decade, where she worked every position before finally becoming the lead chef. Jessica started Delicious Obsessions in 2010 as a way to help share her love for food and cooking. Since then, it has grown into a trusted online resource with a vibrant community of people learning to live healthy, happy lives through real food and natural living.