FTC Disclosure: Delicious Obsessions may receive comissions from purchases made through links in this article. As an Amazon Associate I earn from qualifying purchases.Read our full terms and conditions here.

OK, before you head down to leave me a comment, please understand that this is not my usual "healthy"dessert post. But they turned out so well that I thought I would go ahead and share it on the site. It's my insurance that I won't lose the recipe if hubs asks me to make them again. 🙂
For our recent anniversary, I promised my husband that I would make him some key lime pie bars. I couldn't find my old recipe for them, so I just decided to wing it (but, I did write it down as I went) and they turned out awesome!
These are definitely a special occasion treat, considering how much sugar they have and how long it takes to juice and zest key limes! The work on the limes alone is enough to make this a once-a-year treat.
But, they are heavenly and if you're feeling extra decadent, I encourage you to try them! 🙂
Coupons and Freebies for Key Lime Pie Bars Ingredients
I am always asked about my favorite ingredients and what I use in my own kitchen. I have linked to the products from my affiliate partners that I personally use and recommend. And now, here are the special coupon offers that select affiliate partners are currently offering:
Thrive Market: If you sign up through this link, you will get 15% OFF your first order.
Amazon, of course, has everything you need for this recipe. Their prices are often very good, though I love to shop around and sometimes find that Thrive Market has better deals. If you like saving money, it's good to shop around! 🙂
I get all of my herbs and spices from Mountain Rose Herbs. I have tried so many other brands and have never found the quality, flavor, and aroma to be as good as the herbs I get from Mountain Rose.
Gluten-Free Key Lime Pie Bars
These key lime pie bars are heavenly, and if you're feeling extra decadent, I encourage you to try them!
Instructions
Preheat oven to 325 degrees.
In a food processor, whiz the graham crackers and shredded coconut until fine.
Slowly add the melted butter and pulse until the graham crackers just start to stick together.
In a 9×13 glass baking dish, pour the mixture in and press until it covers the bottom of the pan (but not up the sides) and is packed firmly.
Bake for 10 minutes.
Remove and let cool.
In a large, glass bowl, beat the eggs and lime zest until fluffy and light yellow – about 3-4 minutes.
Add the sour cream and the condensed milk and mix together.
Then, add the lime juice and mix until well combined and smooth.
Pour the mixture into the crust and bake at 325 for 25 minutes, or until the sides have pulled away slightly and the middle is still a little jiggly.
Cool to room temperature and then continue to cool in the fridge for at least 5 hours or overnight.
Cut into squares and serve with fresh whipped cream and a sprinkle of lime zest.
Notes
I highly recommend using real key limes. While you can buy key lime juice in the bottle, using the bottled stuff will not give you the fresh, crisp taste that the fresh key limes do. Even though it's quite a bit of work, it's worth it in the end.
Recommended Products
As an Amazon Associate and member of other affiliate programs, I may earn a small commission from qualifying purchases.
Learn How to Make Perfect Ice Cream (and Other Frozen Treats) at Home
Ice cream is the quintessential dessert (and it goes GREAT with this recipe!). I mean, I can't think of a single person that I've ever met who doesn't like ice cream. While not everyone is as passionate about the cold, creamy, sweet concoction as I am, I am betting that if you're reading this, you probably enjoy a frozen treat of some sort every now and then.
If so, then I have the PERFECT resource for you today.
I am crazy for ice cream, but I find that there are very few commercial ice creams that I can eat. I can't do dairy, so that scratches a good 75% of them off the list. And the non-dairy options either taste funny, have too much sugar, or have weird gums and additives that my poor gut just doesn't tolerate.
So, what's a gal to do?
Master the art of making her own ice cream at home, that's what!
And create I did and The Splendid Scoop and Other Frozen Treats eBook was born! This is one of my best-selling eBooks because I arm you with everything you need to make your own perfect ice cream (or other frozen treats) at home any time you want.
And I do it all with real food ingredients, no refined sweeteners, not gums, not stabilizers. No junk here.
Oh, and I also have made the recipes allergen-friendly and even adaptable for stricter healing diets (like the AIP).
So, if you are ready to master the art of making your own ice cream at home, this is the perfect book for you. Don't let another special occasion or hot day in the summer pass you by watching everyone else enjoying cold treats while you sit on the sideline due to your dietary restrictions.
No more!
If you are ready to learn more about The Splendid Scoop and Other Frozen Treats and see how you can download your own copy today, click here (or just click on the image below!).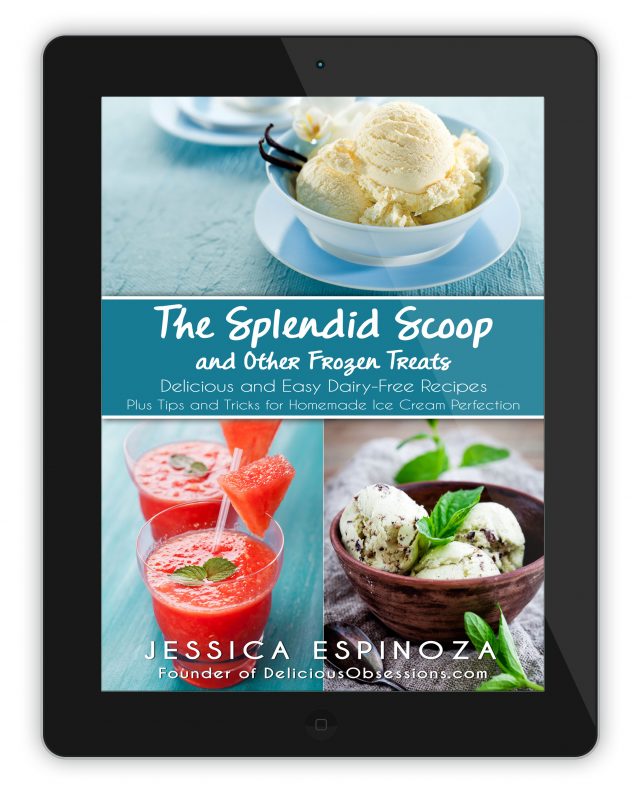 Delicious Obsessions is a participant in the Amazon Services LLC Associates Program, an affiliate advertising program designed to provide a means for us to earn fees by linking to Amazon.com and affiliated sites.Read our full terms and conditions here.