FTC Disclosure: Delicious Obsessions may receive comissions from purchases made through links in this article. As an Amazon Associate I earn from qualifying purchases.Read our full terms and conditions here.

This delicata butternut squash soup is delicious and perfect for fall and winter when many of us are craving heavier foods.
The taste is definitely on the sweeter side and a small serving is enough to satisfy. Butternut squash is already pretty sweet and adding the delicata squash only adds to the sweetness.
The soup has a delectably rich creamy texture and wonderful flavor. The delicata squash has naturally tender skin that allows it to be used in the soup without peeling. Also, if it's a really fresh butternut squash, you can use the skin on those as well. I left the skin on both of the squash when I cooked a recent batch and the skins cooked down and blended right into the soup. The less waste, the better, in my opinion.
Feel free to add extra spices to this recipe if you desire a more savory soup. Coriander, cumin, paprika, and turmeric would all be nice additions to this soup.
Want more squash recipes? Here are some of my favorites:
Shout out to my friend Suzanne from Strands of My Life for shooting the photo for this recipe!

Delicata Butternut Squash Soup Recipe (dairy free)
Yield: 6

Prep Time: 10 minutes

Cook Time: 40 minutes

Total Time: 50 minutes

This delicata butternut squash soup is delicious and perfect for fall and winter when many of us are craving heavier foods.
Ingredients
1 large leek, washed and sliced
1/2 red onion, chopped
2 small delicata squash, washed, seeded and cut into cubes
2 small butternut squash, washed, seeded and cut into cubes
1/4 cup grass-fed butter, ghee, or coconut oil
1 quart chicken stock (homemade is best)
2 teaspoons minced garlic
1 cup heavy cream or coconut cream
1/4 tsp. ground cinnamon
1/4 tsp. sea salt
1/4 tsp. black pepper
Instructions
In a large soup pot, sauté the onions, leeks, and garlic in the butter, ghee, or coconut oil.
When the onions have lightly browned, add the chopped squash, chicken broth, salt, and pepper.
Bring to a simmer over medium heat and then reduce heat to low.
Cook for 35-40 minutes.
Test the squash to ensure it is tender. If the squash is done, remove pot from the heat and use an immersion blender to blend the soup until smooth.
Add the heavy cream or coconut milk and cinnamon and return to the burner and cook for about 10 more minutes.
Serve with a dollop of crème fraiche or sour cream (learn to make your own here).
Notes
Make your own homemade chicken broth here.
Recommended Products
As an Amazon Associate and member of other affiliate programs, I may earn a small commission from qualifying purchases.
Nutrition Information:
Yield: 6 Serving Size: 1
Amount Per Serving: Calories: 285Total Fat: 24gSaturated Fat: 15gTrans Fat: 1gUnsaturated Fat: 7gCholesterol: 71mgSodium: 77mgCarbohydrates: 17gFiber: 4gSugar: 6gProtein: 3g
P.S. Did you know that soups and stews are an EXCELLENT source of gelatin if you use homemade stock? Sometimes, I even add a tablespoon or so of gelatin into my bowl of soup for added nutrition. If you want to learn more about gelatin and its benefits for our health, I highly recommend this book, The Gelatin Secret: The Surprising Superfood That Transforms Your Health and Beauty, from my affiliate partner, Sylvie McCracken. This book is packed with incredible information on how gelatin helps all aspects of our health and also features delicious recipes!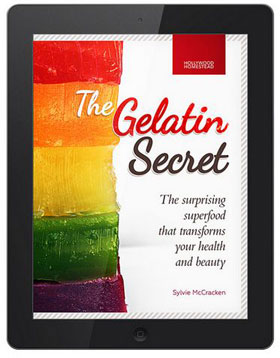 Delicious Obsessions is a participant in the Amazon Services LLC Associates Program, an affiliate advertising program designed to provide a means for us to earn fees by linking to Amazon.com and affiliated sites.Read our full terms and conditions here.