FTC Disclosure: This post contains affiliate links which means if you make a purchase through one of these links, I may earn a small commission on your sale which allows me to cover a portion of the cost of running the Delicious Obsessions site and free content we provide every week. This has no effect on your price and is simply a cost of doing business from the company you purchase from. I only recommend products or services that I have personally tried and love. You can view it like leaving a tip. Thank you for your support!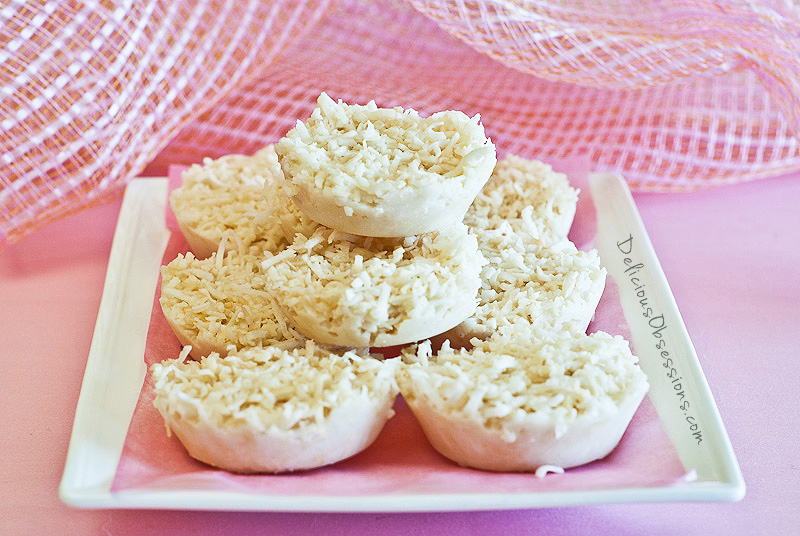 These maple coconut bars with coconut oil are the perfect little treat when you want something sweet (but not too sweet), and you want it to be good for you too!
I developed this recipe after I tried a coconut bar made by Oskri Organics. Their bars are really tasty, but I didn't like the fact that it had so much sugar in them. So, I wanted to try making something similar with lots of coconut oil and a little maple syrup instead of rice syrup.
The recipe turned out well, though it's not an exact copycat recipe. The Oskri bars are much chewier, due to the rice syrup, but frankly, it's just too much sugar for me to consume at one time.
I am always looking for a way to get more coconut oil into my diet, and this is the perfect avenue. I would recommend keeping them in the fridge though – the oil melts really quickly if left out. You can let them warm up a little bit so they're not quite so hard and they get a soft fudge-texture. Eat them fast!
Note: If you want to eliminate the sugar altogether, you could leave the maple syrup out. Also, if you don't like the maple flavor, I'm sure they would be equally delicious with honey or another type of sweetener of your choice.
Shout out to my friend Suzanne from Strands of My Life for shooting the photo for this recipe!

Maple Coconut Bars With Coconut Oil Recipe
I have linked to the products from my affiliate partners that I personally use and recommend. All funds earned go to help support the maintenance of this site and free content. Thank you! 🙂
Author:
Jessica Espinoza @ Delicious Obsessions
Recipe type:
Gluten and Dairy Free Snack or Dessert
Instructions
In a small saucepan, combine the shredded coconut and the coconut oil and warm over very low heat while stirring.
Once the oil is completely melted, add the maple syrup, vanilla and salt and continue stirring until the shredded coconut has absorbed a little of the oil. I stirred for about 5 minutes.
Pour the mixture into a small, glass dish (I used my little 3-cup rectangle Pyrex storage dish), muffin tins, or any other dish you would like.
Push the mixture down until it is packed firmly and then refrigerate for at least an hour.
Cut into bars or cubes and enjoy.
In order to get the bars to let go of the dish, try placing the dish in a shallow pan of hot water for a minute and then they will pop right out.
Paid Endorsement Disclosure: Delicious Obsessions is a participant in the Amazon Services LLC Associates Program, an affiliate advertising program designed to provide a means for sites to earn advertising fees by advertising and linking to AMAZON.COM. This post may contain affiliate links and/or ads. We only recommend products or services that we have personally tried and love. When you make a purchase through any of these links, we earn a small commission on each sale, which allows us to cover a portion of the cost of this site. This has no effect on your sale price and is simply a cost of doing business for the company you are purchasing from. All funds received help with the continued maintenance of this website and free content. You can view it like leaving a tip. Thank you! Read our full terms and conditions here.

Jessica is a real food wellness educator and the founder of the Delicious Obsessions website. She has had a life-long passion for food and being in the kitchen is where she is the happiest. She began helping her mother cook and bake around the age of three and she's been in the kitchen ever since, including working in a restaurant in her hometown for almost a decade, where she worked every position before finally becoming the lead chef. Jessica started Delicious Obsessions in 2010 as a way to help share her love for food and cooking. Since then, it has grown into a trusted online resource with a vibrant community of people learning to live healthy, happy lives through real food and natural living.