FTC Disclosure: This post contains affiliate links which means if you make a purchase through one of these links, I may earn a small commission on your sale which allows me to cover a portion of the cost of running the Delicious Obsessions site and free content we provide every week. This has no effect on your price and is simply a cost of doing business from the company you purchase from. I only recommend products or services that I have personally tried and love. You can view it like leaving a tip. Thank you for your support!
I love, love, love this soup recipe. While I am a huge fan of soups and stews in general, this specific recipes is at the top of my all-time faves list.
It is the perfect balance of flavors. The nourishing broth, paired with vegetables and chicken, are all complimented by rich coconut milk and just the right amount of heat. The ginger and garlic give you an additional punch of nutrition.
You can tweak this recipe to suit your own tastes. Use whatever veggies and herbs you like. This is a must-have recipe to keep on hand during the cold and flu season. Not only is it delicious, but it is also very nourishing. Both chicken broth and coconut are great remedies for colds. This soup warms you up and is so comforting when you feel a little under the weather.
This recipe was inspired by the coconut chicken soup recipe in Nourishing Traditions. It evolved out of several different batches that I made. I just kept adding ingredients into the soup pot and finally reached a combination that I was happy with. Once you try it, I am certain it will be one of your family's favorites too!
Need some new soup and stew recipes? I have you covered with a section dedicated to soups and stews here.
Thai Chicken Coconut Soup Recipe :: gluten free, dairy free, autoimmune option
I have linked to the products from my affiliate partners that I personally use and recommend. All funds earned go to help support the maintenance of this site and free content. Thank you! 🙂
Author:
Jessica Espinoza @ Delicious Obsessions
Ingredients
1 pound chicken breast, cut into small chunks (you can use any kind of chicken you have on hand)
1 small Vidalia onion, chopped
3 large carrots, chopped
2 cups shredded chard or other greens
1 bunch green onions, chopped
1 lemon or lime, juiced
½ cup cilantro, chopped
1 tablespoon chopped garlic
1 tablespoon chopped ginger
½ tablespoon of red pepper flakes (more or less depending on your heat tolerance -- omit if autoimmune)
1 can coconut milk or coconut cream (I love Aroy-D brand for both)
1 quart chicken broth, preferably homemade
sea salt to taste (I buy my sea salt here.)
Instructions
In a large stockpot, cook the chicken in a little coconut oil. Cook until the chicken starts to brown and is cooked through.
Add the chopped Vidalia onion, carrots and garlic.
Sauté for 4-5 minutes and then add the ginger and chicken broth.
Bring the soup to a low boil and let it simmer for about 25 minutes, or until the carrots are tender.
Add the chopped chard, cilantro, lemon juice, green onions and coconut milk.
Continue cooking for about 10 more minutes.
Check for salt and adjust accordingly. Now, you're ready to serve.
This recipe freezes well, so you can make an extra big batch and then store it for later!
Note: Feel free to adjust the ginger and red pepper flakes to taste. I find that I like a lot of ginger and pepper in mine, so when I make it, I probably end up with closer to two tablespoons of ginger and 1 tablespoon of red pepper. If you want it a little less strong, just cut back those two ingredients.
P.S. Did you know that soups and stews are an EXCELLENT source of gelatin if you use homemade stock? Sometimes, I even add a tablespoon or so of gelatin into my bowl of soup for added nutrition.
If you want to learn more about gelatin and its benefits for our health, I highly recommend this book, The Gelatin Secret: The Surprising Superfood That Transforms Your Health and Beauty, from my affiliate partner, Sylvie McCracken. This book is packed with incredible information on how gelatin helps all aspects of our health and also features delicious recipes!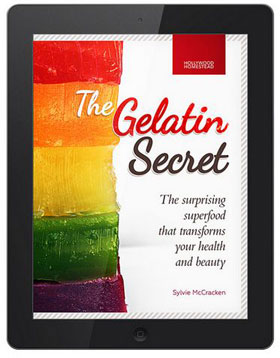 Paid Endorsement Disclosure: Delicious Obsessions is a participant in the Amazon Services LLC Associates Program, an affiliate advertising program designed to provide a means for sites to earn advertising fees by advertising and linking to AMAZON.COM. This post may contain affiliate links and/or ads. We only recommend products or services that we have personally tried and love. When you make a purchase through any of these links, we earn a small commission on each sale, which allows us to cover a portion of the cost of this site. This has no effect on your sale price and is simply a cost of doing business for the company you are purchasing from. All funds received help with the continued maintenance of this website and free content. You can view it like leaving a tip. Thank you! Read our full terms and conditions here.

Jessica is a real food wellness educator and the founder of the Delicious Obsessions website. She has had a life-long passion for food and being in the kitchen is where she is the happiest. She began helping her mother cook and bake around the age of three and she's been in the kitchen ever since, including working in a restaurant in her hometown for almost a decade, where she worked every position before finally becoming the lead chef. Jessica started Delicious Obsessions in 2010 as a way to help share her love for food and cooking. Since then, it has grown into a trusted online resource with a vibrant community of people learning to live healthy, happy lives through real food and natural living.