FTC Disclosure: This post contains affiliate links which means if you make a purchase through one of these links, I may earn a small commission on your sale which allows me to cover a portion of the cost of running the Delicious Obsessions site and free content we provide every week. This has no effect on your price and is simply a cost of doing business from the company you purchase from. I only recommend products or services that I have personally tried and love. You can view it like leaving a tip. Thank you for your support!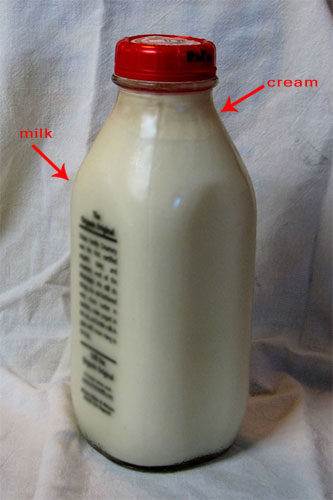 To compliment my recent post on pasteurization, I thought I would also cover homogenization as well. I've gotten this question a few times recently and I thought I'd post some info about homogenization and why it is bad for our milk.
Milk is essentially a mixture of water and oil. And, we all know that these two liquids don't mix well. If you've ever had raw milk or non-homogenized milk, you will have seen that the milk fat separates from the milk and rises to the top. This cream is considered liquid gold by many people. When the cream separates from the milk you are essentially left with skim milk. Some people considered it an inconvenience to have the cream and the milk separate because you had to spend a little time shaking or stirring the milk to get the cream to disperse into the milk.
Enter homogenization
Homogenization came about in 1899 by a French inventor, named Auguste Gaulin. It is simply a process that breaks all of the milk fat globules into smaller sizes to help prevent them from rising to the top of the bottle. When it first started out, many consumers didn't like the idea of homogenization. It took nearly 20 years for homogenized milk to take hold and start being successful. The biggest selling point was that people were led to believe that homogenized milk was easier to digest.
The process of homogenization requires the milk to have high pressure, about 2,000 to 3,000 pounds per square inch, applied to it in order to break up the milk fat molecules. It's usually done in two steps. The first step requires the milk to be pushed through small tubes and with the small diameter of these tubes, the milk fat is forced to break apart. After that, the high pressure is applied.
Once the milk has passed through the homogenization process, you end up with a chemically-altered product. The milk has been subject to an unnatural process of ridiculously high pressure and heat, which alters the color, flavor and nutritional value of the product.
This is a fantastic article by Mary Enig on Milk Homogenization and Heart Disease, if you're interested in reading more.
Image courtesy of Wikimedia Commons
Paid Endorsement Disclosure: Delicious Obsessions is a participant in the Amazon Services LLC Associates Program, an affiliate advertising program designed to provide a means for sites to earn advertising fees by advertising and linking to AMAZON.COM. This post may contain affiliate links and/or ads. We only recommend products or services that we have personally tried and love. When you make a purchase through any of these links, we earn a small commission on each sale, which allows us to cover a portion of the cost of this site. This has no effect on your sale price and is simply a cost of doing business for the company you are purchasing from. All funds received help with the continued maintenance of this website and free content. You can view it like leaving a tip. Thank you! Read our full terms and conditions here.

Jessica is a real food wellness educator and the founder of the Delicious Obsessions website. She has had a life-long passion for food and being in the kitchen is where she is the happiest. She began helping her mother cook and bake around the age of three and she's been in the kitchen ever since, including working in a restaurant in her hometown for almost a decade, where she worked every position before finally becoming the lead chef. Jessica started Delicious Obsessions in 2010 as a way to help share her love for food and cooking. Since then, it has grown into a trusted online resource with a vibrant community of people learning to live healthy, happy lives through real food and natural living.