{Today I would like to give a warm welcome Tyler, author of The Primitive Homemaker. She creates some delicious autoimmune friendly recipes on her site and today, she shares her recipe for a Strawberries & Cream Tart. As a fellow AIP'er, I know exactly what it's like to feel so restricted that you can't eat anything. I can't wait to try this delicious tart! ~Jessica}
~~~~
I'd like to thank Jessica for giving me the opportunity to share one of my recipes with you all. For those of us following a restricted diet, it is so nice to have a community of people to share our journey with. This community is what inspires us to keep going. I hope that this can connect me with more people who are using diet to heal their bodies and help spread the word of how diet can truly help those suffering from autoimmune diseases.
I have been following the Autoimmune Paleo protocol for about 2 months and it has taken more will power than I ever knew I had. If you're following the AIP, can you relate? I mean, I feel like a warrior when I turn down almond butter sometimes. I just want to hop around and congratulate myself for being so mentally strong!
If you're following the AIP, then you know that sugar and sweets should be kept to a minimum. You also know that the links of what you can eat is much shorter than what you can't.
While there are so many delicious foods that I can eat, but sometimes I just want something sweet and comforting. Before starting the AIP protocol, there were tons of Paleo treats out there that I could indulge in from time to time. And no, I'm not an advocate for sweet baked goods on a daily basis, but let's be honest, a treat every now and then can give our will power a super boost and make the journey so much less difficult.
Last week, when I was experiencing a serious snack craving, I decided to experiment with the tart crust I used for this lemon tart recipe. My husband and I had just gotten an awesome deal on fresh organic strawberries the week before and I had ten pounds in the freezer that needed to get used for something.
After a bit of brainstorming, this is what I came up with. An Autoimmune Paleo-friendly strawberries and cream tart. It's super easy to make, requires a very minimal amount of ingredients, and is just sweet enough to soothe that craving without totally derailing your healing protocol!
Delicious Obsessions Trusted Product Recommendations
My affiliate partner, Vitacost, has really good prices on some of the ingredients in this recipe. If you sign up through this link, you'll get a coupon for $10 off your first purchase from Vitacost, and when your order ships, I'll get a $10 off coupon for referring you!
In addition, my affiliate partner, Tropical Traditions, is where I get all of my coconut products from and if you make a purchase from them through any of my links, you will receive a free copy of their Virgin Coconut Oil book, and I will receive a discount coupon for referring you.
Quick Note On Gelatin Types
When it comes to gelatin, you don't want any old gelatin off the supermarket shelves. You want to look for 100% grass-fed gelatin from healthy animals. That is why I recommend Vital Proteins Grass-Fed Gelatin products and Perfect Supplements products exclusively. I have compared these brand with other brands on the market and the quality far surpasses anything else I've tried. I am thrilled to be one of their affiliate partners and support such great products and companies.
Perfect Supplements offers a grass-fed hydrolyzed collagen (cold-soluble) right now and has a gelatin (hot-soluble) in the works for 2016. Read my review of their product here or watch the video below.
Vital Proteins offers two types of gelatin
. It is important to know that these ARE NOT interchangeable when it comes to recipes! The green top (Collagen Protein) is what you need for this recipe and for recipes where you are making gummies, "jello", etc. The blue top (Collagen Peptides) is cold water soluble and does not thicken or gel like gelatin does. Both are very nutritious, but can't be used interchangeably. Watch this video:
Strawberries & Cream Tart (Gluten and Dairy Free, Autoimmune Paleo)
I have linked to the products from my affiliate partners that I personally use and recommend. All funds earned go to help support the maintenance of this site and free content. Thank you! :)
Author: Tyler @ Delicious Obsessions
Recipe type: Autoimmune Paleo Dessert
Instructions
Preheat over to 325.
Before you start, your dates need to be completely softened. You can do this either by soaking them overnight, or steaming them over boiling water for about 7 minutes.
For the crust:
In a high-speed blender or food processor, cream your shredded coconut. To do this, process the coconut until it has formed a thick, oily paste.
Once your coconut is creamed, add 1 cup of softened dates. Process until you had a dark, thick, dough. It will appear oily, and slightly crumbly. Your crust mixture will become more cohesive once you begin pressing the mixture into your pan.
Press your mixture down evenly into an 8" spring-form pan. Bake for 20-25 minutes, or until the edges begin to turn brown. Once your crust is done, set it aside and allow it to cool while you prepare the filling.
For the cream filling:
Blend coconut milk (you can make your own), dates, gelatin, arrowroot flour, and coconut oil. Blend until well combined. Pour this mixture into your spring form pan, on top of your crust.

For strawberry swirl:
Blend strawberries (you may use either fresh, or frozen strawberries that have been steamed and completely thawed), coconut oil, gelatin, and coconut milk. Blend completely.
Allow 5-7 minutes before pouring into cream mixture. This allows the cream to "set" so that you get the swirly design on top.
Slowly pour the strawberry mixture into the cream. I poured mine in a sporadic design, and used a butter knife to create a design.
Refrigerate, and allow to set for at least 2 hours before cutting.
Want Even More Gelatin Goodness?
Health Benefits and Gelatin Info
Gelatin Recipes (Gluten-Free)
The Gelatin Secret
For further reading, my friend Sylvie's book, The Gelatin Secret (affiliate link), is by far the best book out there on the subject.
Gelatin is the superfood that can give you relief from digestive disorders and thousands of people are finding that regular consumption is helping them heal their bodies and live a healthier life.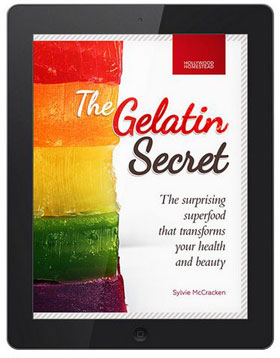 About Tyler
Tyler is a 22 year homemaker who is obsessed with all things nutrition and wellness. She is a mom to an amazingly beautiful little girl, and wife to a crazy supportive husband. She spends her time in the kitchen experimenting with new recipes, playing with her toddler, hiking around the Ozark Mountains with her husband, reading about nutrition, and going to school.
You can connect with Tyler on her blog, The Primitive Homemaker, as well as on Facebook, Pinterest, Instagram, and YouTube.
Disclosure: This post may contain affiliate links and/or ads. We only recommend products or services that we have personally tried and love. When you make a purchase through any of these links, we earn a small commission on each sale, which allows us to cover a portion of the cost of this site. This has no effect on your sale price and is simply a cost of doing business for the company you are purchasing from. All funds received help with the continued maintenance of this website and free content. You can view it like leaving a tip. Thank you! Read our full terms and conditions here.
Jessica is a real food wellness educator and the founder of the Delicious Obsessions website. She has had a life-long passion for food and being in the kitchen is where she is the happiest. She began helping her mother cook and bake around the age of three and she's been in the kitchen ever since, including working in a restaurant in her hometown for almost a decade, where she worked every position before finally becoming the lead chef. Jessica started Delicious Obsessions in 2010 as a way to help share her love for food and cooking. Since then, it has grown into a trusted online resource with a vibrant community of people learning to live healthy, happy lives through real food and natural living.