A few weeks ago I published a post to help you eat more coconut oil that featured 115 real food coconut oil recipes. It made me realize that we also needed a post that featured non-food recipes. While eating coconut oil is the best way to take advantage of its health benefits, it can also be used for a variety of other things, including skin care. I get a lot of questions about how to use coconut oil for skin care, so this post is for you!
Don't forget to check out this super popular post that gives you 122 Uses for Coconut Oil. If you're curious why I love coconut oil so much, you can read about the health benefits of coconut oil here. And, if that's not enough, check out my entire section of my site devoted to the wonderful world of coconut oil.
Now, let's get this coconut oil party started! Here are 21 great non-food recipes to get you using more coconut oil!
Use More Coconut Oil: 21 Non-Toxic Coconut Oil Skin Care Recipes
Soothing Coconut Oil Arnica Salve
Homemade Deodorant Recipe with Rosemary, Lemongrass, and Coconut Oil 
Homemade Coconut Oil Deodorant with Vitamin E and Tea Tree 
Basic Homemade Coconut Oil Deodorant
Homemade Coconut Oil Toothpaste with Bentonite Clay, Myrrh, and Minerals
Homemade Coconut Oil Toothpaste with Orange and Peppermint
Homemade Peppermint Coconut Oil Toothpaste
Nourishing Coconut Oil Hand and Body Cream
Homemade 2-Ingredient Coconut Oil Lip Balms
Homemade Coconut Oil Lip Balms
Non-Toxic Bug Repellent with Coconut Oil
Simple Coconut Oil Sugar Body Scrub
Coconut Oil Body Scrubs (Honey/Chamomile, Coffee, and Citrus Blast)
Coconut Oil Hair Treatment with Egg Yolks and Honey
What is your favorite way to use coconut oil? Leave a comment below!
If you're interested in making your own skin care products, I highly recommend this eBook: "Coconut Oil For Your Skin – Nourishing Your Body From The Outside In". This is a great book that shows you how to nourish your body from the outside in, using coconut oil!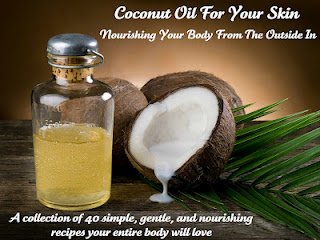 For lots of health-related information on coconut oil, I have found this book from the founders of Tropical Traditions to be very informative. If you're a new customer, you can receive a copy for free on your first purchase, and I get a discount coupon for referring you! Click this link to place your order and receive your free book!
*Advertisements from my trusted affiliate partners*