This post may contain affiliate links. It does not cost you anything and helps maintain the free information on this site, as well as answer the questions of "what brand do you use?" Please know I never personally recommend any product or service I wouldn't use on my own family.
A few weeks ago I published a post to help you eat more coconut oil that featured 115 real food coconut oil recipes. It made me realize that we also needed a post that featured non-food recipes. While eating coconut oil is the best way to take advantage of its health benefits, it can also be used for a variety of other things, including skin care. I get a lot of questions about how to use coconut oil for skin care, so this post is for you!
Don't forget to check out this super popular post that gives you 122 Uses for Coconut Oil. If you're curious why I love coconut oil so much, you can read about the health benefits of coconut oil here. And, if that's not enough, check out my entire section of my site devoted to the wonderful world of coconut oil.
Recipe Ingredients
I get a lot of questions on the ingredients for my DIY posts, so here are my notes on that:
Vitacost.com: They have great prices on natural and organic products and I have found that their prices are typically $2.00+ cheaper than locally. Plus, I usually have a big enough order to get free shipping, so I save even more. If you are interested, you can sign up through this link to get a $10 off coupon to use on your next Vitacost purchase (I get one too, so thanks!).
Tropical Traditions: My go-to source for all things coconut. They also carry a wide range of organic food and skin care products, as well as non-toxic household products. If you order through this link and are a new customer, you will receive a free copy of their Virgin Coconut Oil book (a $25 value) and I will receive a discount coupon for referring you!
I buy all of my cosmetic butters, waxes, and cosmetic clays from Mountain Rose Herbs (an affiliate partner). Their quality is outstanding and while I may try other brands every once in awhile, I keep coming back to them.
If you're looking for essential oil recommendations, check out the high-quality brand that I use in my own home here.
Now, let's get this coconut oil party started! Here are 21 great non-food recipes to get you using more coconut oil!
Use More Coconut Oil: 21 Non-Toxic Coconut Oil Skin Care Recipes
Soothing Coconut Oil Arnica Salve
Image Courtesy of The Coconut Frontier
Image Courtesy of Cooking Traditional Foods
Homemade Deodorant Recipe with Rosemary, Lemongrass, and Coconut Oil 
Homemade Coconut Oil Deodorant with Vitamin E and Tea Tree 
Image Courtesy of The Homesteading Hippy
Basic Homemade Coconut Oil Deodorant
Image Courtesy of Cooking Traditional Foods
Homemade Coconut Oil Toothpaste with Bentonite Clay, Myrrh, and Minerals
Homemade Coconut Oil Toothpaste with Orange and Peppermint
Image Courtesy of The Homesteading Hippy
Homemade Peppermint Coconut Oil Toothpaste
Image Courtesy of Vicariously Vintage
Nourishing Coconut Oil Hand and Body Cream
Image Courtesy of Whole New Mom
Homemade 2-Ingredient Coconut Oil Lip Balms
Image Courtesy of Vicariously Vintage
Homemade Coconut Oil Lip Balms
Image Courtesy of Cooking Traditional Foods
Non-Toxic Bug Repellent with Coconut Oil
Simple Coconut Oil Sugar Body Scrub
Coconut Oil Body Scrubs (Honey/Chamomile, Coffee, and Citrus Blast)
Image Courtesy of Earth Star Mama
Coconut Oil Hair Treatment with Egg Yolks and Honey
Image Courtesy of District Diva
Image Courtesy of Stitching Hearts Together
What is your favorite way to use coconut oil? Leave a comment below!
If you're interested in making your own skin care products, I highly recommend this eBook from my affiliate partner: "Coconut Oil For Your Skin – Nourishing Your Body From The Outside In". This is a great book that shows you how to nourish your body from the outside in, using coconut oil!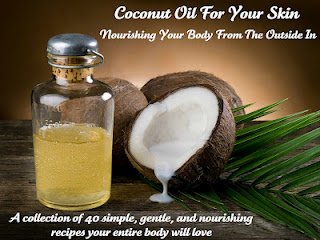 For lots of health-related information on coconut oil, I have found this book from the founders of Tropical Traditions to be very informative. If you're a new customer, you can receive a copy for free on your first purchase, and I get a discount coupon for referring you! Click this link to place your order and receive your free book!
Paid Endorsement Disclosure: Delicious Obsessions is a participant in the Amazon Services LLC Associates Program, an affiliate advertising program designed to provide a means for sites to earn advertising fees by advertising and linking to AMAZON.COM. This post may contain affiliate links and/or ads. We only recommend products or services that we have personally tried and love. When you make a purchase through any of these links, we earn a small commission on each sale, which allows us to cover a portion of the cost of this site. This has no effect on your sale price and is simply a cost of doing business for the company you are purchasing from. All funds received help with the continued maintenance of this website and free content. You can view it like leaving a tip. Thank you! Read our full terms and conditions here.

Jessica is a real food wellness educator and the founder of the Delicious Obsessions website. She has had a life-long passion for food and being in the kitchen is where she is the happiest. She began helping her mother cook and bake around the age of three and she's been in the kitchen ever since, including working in a restaurant in her hometown for almost a decade, where she worked every position before finally becoming the lead chef. Jessica started Delicious Obsessions in 2010 as a way to help share her love for food and cooking. Since then, it has grown into a trusted online resource with a vibrant community of people learning to live healthy, happy lives through real food and natural living.